As a non-profit that embraces sustainability, the Fleet Science Center's Green Team is always researching how they can reduce their environmental footprint.  After studying the types of waste produced in their facility, they set the goal to reduce how much food they send to the landfill by implementing innovative food donation services and composting programs. Through the methods they adopted to divert their food waste, they've created a model that other non-profits can use to significantly reduce their waste output.
The Fleet Science Center is already well versed in finding ways to decrease their environmental footprint. Staff members have continuously found ways to improve the organization's operations through innovative sustainability initiatives. Previously, the Fleet has installed efficient LED lights, hosted recycling events for electronic and hazardous waste,  and pursued LEED recertification for Operations and Maintenance.
The EPA's Food Hierarchy
The Fleet Science Center prioritized their strategies to divert how much food they send to the landfill using the Food Recovery Hierarchy, developed by the U.S. Environmental Protection Agency. By following this system from the EPA, the Fleet ensured that they were increasing their food waste diversion in the most efficient ways possible, while creating additional benefits for the local community and environment. As they searched for ways to reduce how much food waste they produce, they also focused on three diversion strategies within the Food Recovery Hierarchy: "Feed Hungry People", "Feed Animals", and "Composting".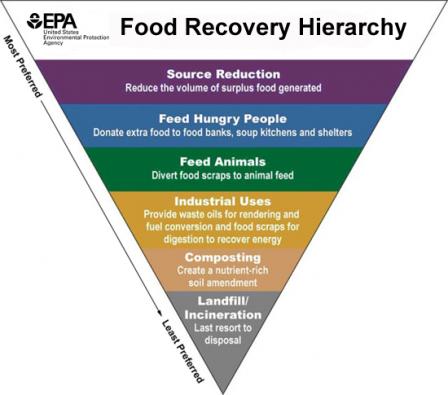 Donating Food to Prevent Food Waste
As one of the most preferred methods on the Food Recovery Hierarchy, "Feeding Hungry People" has a variety of  benefits for our environment and community. To prevent wasting leftover food from their Craveology Café, the Fleet Science Center has partnered with FreshStart, a new company which aims to help businesses and restaurants donate excess food to local food pantries. As an alpha tester, the Fleet will help FreshStart test the app used to organize food donations and provide food for local food banks.
Food from the Fleet's Craveology Café that is past the sell-by date, but still within food donation standards, will be picked up by FreshStart for delivery to people in need. FreshStart will provide this food to local non-profit, People Assisting The Homeless (PATH), who are helping provide access to food to some of the 486,000 San Diegans facing food insecurity.
In the first 5 weeks of the program with FreshStart, the Fleet Science Center has:
Made 16 donations (averaging 3 per week)

Donated over 200 pounds of food

Provided an estimated 225 meals to the homeless

Prevented $690 worth of food waste
By donating this leftover food, the Fleet is lowering their environmental footprint by reducing how much they send to the landfill. Food waste in the landfill emits methane, a powerful greenhouse gas that contributes to climate change. Along with preventing these environmental impacts, food donation also prevents the waste of the resources needed to produce the food.
Using Food Waste as Compost and Animal Feed
To divert the food waste that is not suitable for donation, the Fleet has contracted with the Resource Management Group (RMG) to send food waste to composting facilities and to farms for animal feed. Compared to other food waste management companies, RMG is particularly unique, as they are able to divert both pre-consumer and post-consumer waste. Typically, most commercial composting companies can only process pre-consumer food waste, the waste created during food production. Through this system, the Fleet diverts food scraps, spoiled food, and other sources of food waste.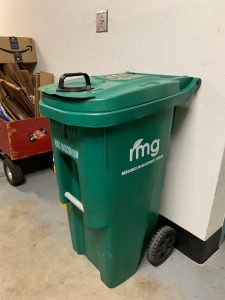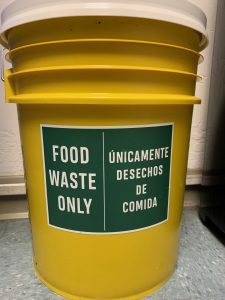 Since partnering with RMG, the Fleet has placed food waste bins in their staff break rooms, the café's food prep area, and in their event spaces. As their food waste diversion program develops, they plan to find ways that they can process food scraps and leftovers from the visitors who dine-in at their café.
Using food waste for animal feed and compost offers several benefits for our environment over sending food waste to the landfill. For example, using food waste for animal feed helps reduce the impact of animal products by reducing the need to produce traditional animal feed. Likewise, breaking down food waste through composting can create soil fertilizers, capture carbon, and prevent how much greenhouse gases are emitted during the breakdown of organic waste. By closing the loop of food waste, the need to open more landfills in our community is also reduced.
Moving Forward
Using a variety of strategies from the EPA's food recovery hierarchy allows the Fleet to diversify how they divert food waste, while providing several benefits to our environment and the local community. By reducing their food waste and finding alternatives to the landfill, the Fleet will reduce their environmental footprint and provide an example for other non-profits to pursue waste diversion, using methods that contribute to the triple bottom line approach in considering people, planet, and profit.