We are excited to partner again with the San Diego Green Building Council to relaunch the Green Assistance Program (GAP) in Balboa Park. Through this program, green building professionals from the San Diego community will volunteer to help nine non-profit organizations in Balboa Park achieve LEED recertification, while attaining LEED project experience.
LEED, or Leadership in Energy and Environmental Design, is a certification awarded by the US Green Building Council (USGBC) which provides a framework to create buildings that are green and efficient. USGBC certifies buildings through a multi-rank rating system, where applicants can earn points for energy efficiency, water savings, materials and resources management, indoor environment quality, and other green innovation strategies.
To encourage the continuous improvement of buildings' performance, USGBC requires previously certified buildings to earn a recertification every five years. Ten buildings in the Park have previously been LEED certified, with four buildings in the process of working towards recertification in 2020. These buildings include Casa del Prado, Casa de Balboa, the Fleet Science Center, and the Old Globe Theatre.
Energy efficiency is an important part of working towards a LEED certification or recertification, because the building's energy usage accounts for a large portion of the LEED scoring system. As several of the organizations in these buildings have aimed to reach a higher rank of LEED with their recertification, they are researching what innovative energy efficiency projects they can consider.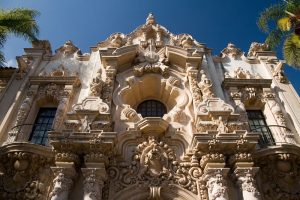 Casa del Prado | LEED Silver
Casa del Prado houses several Cultural Partnership member organizations including the San Diego Civic Youth Ballet, San Diego Junior Theatre, and San Diego Youth Symphony & Conservatory. As part of their first LEED certification, the tenants of the Casa del Prado searched for low-cost ways to reduce their energy usage. Through their "Switch Off" campaign, they posted flyers to encourage energy-saving habits, like closing doors to keep conditioned air inside and turning off thermostats, lights, and electronics when a room is not in use.  It's estimated that this project saved about 5,473 kWh in energy usage that year, equal to approximately $6,923 on utility bills. Along with improving their building operations to reduce energy usage, Casa del Prado has the opportunity to replace many of their current lighting fixtures with efficient LED bulbs to achieve points for their recertification.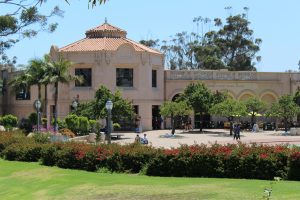 Fleet Science Center | LEED Silver
The Fleet Science Center has been LEED Silver certified since 2010 and will undergo its second recertification this year. As a science based institution, the Fleet Science Center is constantly looking for ways to reduce their energy usage through technology. Using a rebate from San Diego Gas & Electric, they are currently installing a total of 1,100 LED bulbs throughout the building to replace their high-energy bulbs at a low cost to the organization. GAP volunteers will explore other innovative energy efficiency projects to consider, such as installing a special device for their ventilation systems to reduce how much energy the air conditioning units use when energy demand is high.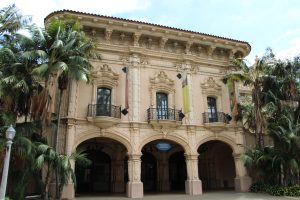 Casa de Balboa | LEED Silver
Casa de Balboa is home to several organizations, including the Museum of Photographic Arts (MOPA), the San Diego Model Railroad Museum, and the San Diego History Center. The building has pursued multiple noteworthy energy projects since its first LEED certification, which have improved tenant operations and energy usage.  These projects included the installation of efficient air conditioning units for MOPA's art collections, using advanced lighting controls throughout the building, and a solar array installed on the building's roof. All of these energy projects will help the building gain more points towards recertification.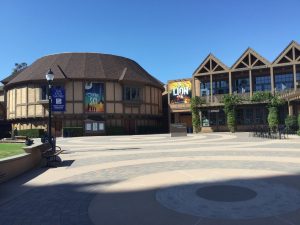 The Old Globe | LEED Silver
While many buildings in the Park consume energy throughout the entire day, most of the energy used by The Old Globe is consumed during its theatre's performances. As part of their previous certification, staff from The Old Globe replaced over 400 bulbs throughout their outdoor performance spaces to LEDs, which use less than a fifth of the energy used by the previous bulbs. Pursuing similar projects will be crucial to their LEED recertification. During a previous study of their major pieces of equipment, The Old Globe found how they could perform maintenance of air conditioning units to ensure they are running at maximum efficiency. By cleaning fan components on their AC systems, it was found that they could save around 4,000 kWh every year, saving nearly $1,000 in energy costs.
LEED recertification offers a great way for these buildings to assess energy efficiency projects that they should pursue to lower their energy usage and create healthy, highly efficient and cost-saving green buildings. For the non-profit organizations, LEED certification is a symbol of sustainability achievement.