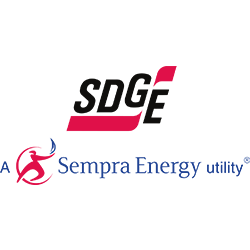 San Diego Gas & Electric® (SDG&E®) is a founding partner and has been an ongoing supporter of Balboa Park Cultural Partnership's (BPCP) Sustainability Program since 2008.
Partnership Programs
BPCP received grant funding through SDG&E's Environmental Champions initiative in 2013, 2014, and 2015. The initiative supports non-profit organizations whose programs promote environmental education, community engagement, and stewardship. BPCP utilized the funds to achieve the collective goal of completing 10 LEED certification projects in Balboa Park. This goal was achieved in 2016 through the combined efforts of SDG&E, City of San Diego, San Diego Green Building Council, and Balboa Park Cultural Partnership.
Balboa Park cultural organizations have taken advantage of SDG&E's On-Bill Finance Program; a zero-percent interest loan for energy efficiency retrofits. In addition, over $852,000 in energy incentives and rebates have gone to Balboa Park organizations since 2008! Park projects completed through these programs to-date have resulted in annual savings of 9,391,999 kWh, 121,570 therms, and over $1.9 million in energy costs.
SDG&E and the Sustainability Program together host public LED lighting sales in the Park. More than 800 LED products were sold at a 2016 event in Spanish Village Art Center, saving an estimated 48,643 kWh and $7,428 in energy costs. In November 2018, energy savings from a sale total 2,030 kWh which diverted 3,126 pounds of CO2 from the atmosphere.
In December 2018, 120 SDG&E employees volunteered their time to do a litter clean up in Balboa Park with the Cultural Partnership. This event was made possible with support from the City of San Diego's Parks & Recreation department and clean up supplies on loan from I Love a Clean San Diego. This was also a momentous launch of a park-wide waste study using the Litterati app. SDG&E volunteers helped collect 282 pounds of litter in short amount of time. Read the waste diversion report here.
Partnership Recognition
SDG&E has recognized BPCP several times in recent years for its outstanding results in energy efficiency and conservation. BPCP was selected as one of 11 Energy Champions in 2013 and, along with the City of San Diego, as the Energy Grand Champion in 2015.
The Sustainability Program is funded by California utility customers and administered by San Diego Gas & Electric® (SDG&E) under the auspices of the California Public Utilities Commission.