With the goal of infusing sustainability practices into every level of operations, the Sustainability Program works with the Balboa Park Green Team to further the Park's expertise in energy conservation and green business principles.
The Balboa Park Green Team was assembled in the fall of 2013 to enhance employee engagement in Park sustainability initiatives as a part of the Balboa Park Sustainability and Energy Management Action Plan.
To date, the following organizations are represented on the Green Team:
Balboa Park Conservancy
Fleet Science Center
Japanese Friendship Garden
Mingei International Museum
Museum of Us
San Diego Air & Space Museum
San Diego Automotive Museum
San Diego Civic Youth Ballet
San Diego History Center
San Diego Museum of Art
San Diego Natural History Museum
San Diego Zoo Global
Spanish Village Art Center
The Old Globe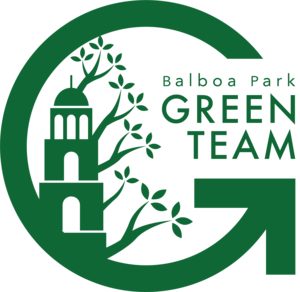 In 2014, the Green Team looked at waste in Balboa Park and in 2015 worked with the City of San Diego's Environmental Services Department to increase waste diversion. In addition, the Balboa Park Cultural Partnership collaborated with the San Diego Green Building Council to host a zero-waste event in June 2015. In 2017, members of the Green Team pledged to go strawless for April, which is Earth Month. The Green Team has also undertaken the 2019 Energy Efficiency Day Bingo challenge to engage their colleagues with a fun fact and savings tips filled bingo game.