On October 2nd, several Cultural Partnership members along with the collaborative effort of dozens of energy efficiency advocacy groups around the nation joined together to spread awareness on energy usage for Energy Efficiency Day. Energy Efficiency Day's message is simple: "Save Money. Cut Carbon. Breathe Easier." It is a reminder of our wasted energy on daily activities. This annual awareness event began in 2016 with the idea that energy efficiency is the cheapest, quickest way to meet energy needs, cut consumer bills, and reduce pollution. In support of reducing these harmful emissions from fossil fuels, our program made a conscious effort to spread awareness throughout the Park alongside our member organizations. We launched a campaign to challenge member organization's staff and volunteers in Balboa Park to reduce their energy usage for the week.
In an educational twist on the game of bingo, energy fun facts and saving tips were brought to the Park staff's attention. Many Energy Efficiency (EE) Bingo spaces were filled with an energy saving practice that is incredibly simple but yet effective in reducing consumption. One of the bingo spaces read, "Unplug your cell phone charger when not in use." This action space is focused on the idea of the phantom load, also known as plug load, or a vampire load. Phantom load is when a device consumes electricity, even when turned off, but still plugged into an outlet. For this reason, we are wasting precious energy and it is costing us money. Any home or office equipment that's intermittently used, such as computer monitors, microwaves, and cell phone chargers are constantly drawing energy. In this activity, we sought to inform participants on simple but cost-effective energy saving facts and tips. Alex from the Veterans Museum at Balboa Park mentioned, he's "looking forward to future activities that teach about energy saving and sustainability." Education and engagement are an integral step in spreading awareness about the realities of the environmental concerns we all face.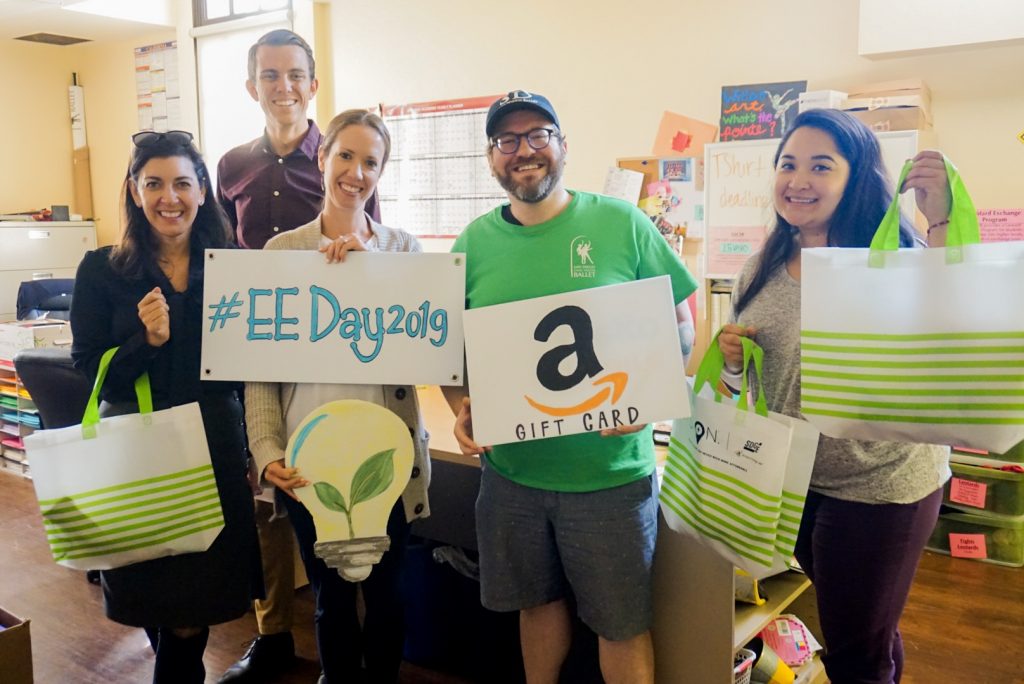 Featured in the photo above, the winners, of EE Bingo with 100% staff participation. Congratulations San Diego Civic Youth Ballet, you deserve your sustainability kits!
Unity  is  Strength
The EE Bingo card provided participants with the option to save two hours of energy by using natural light instead of light bulbs, which saves a significant amount of energy at no cost. United in our effort, we were able to save more than 70 hours of energy! We'd like to give a big thank you to the proactive leaders that participated in this event. A grand total of 8 Balboa Park organizations did their part this Energy Efficiency (EE) Day! Staff members at the Fleet Science Center, San Diego Civic Youth Ballet, Balboa Park Cultural Partnership, Veterans Museum at Balboa Park, San Diego Youth Symphony, San Diego Museum of Man, San Diego Museum of Art and Balboa Park Conservancy participated in the challenge.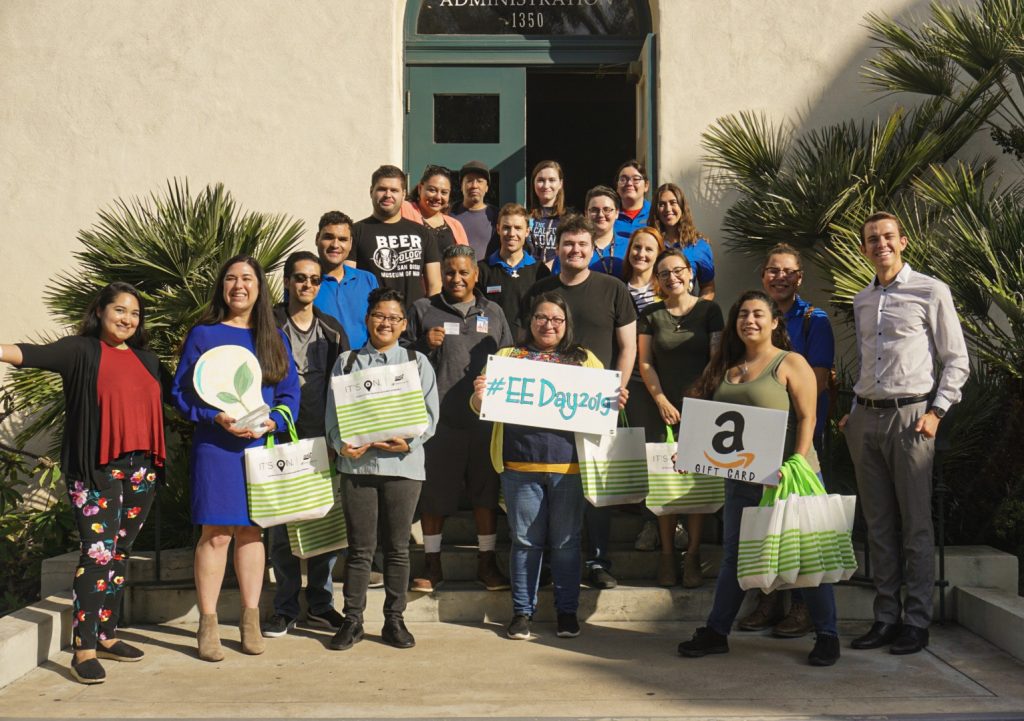 Featured in the photo above, San Diego Museum of Man, winners of EE Bingo with sustainability stars who LED the way!
Creating  a  Ripple  Effect
Throughout our daily lives, we are consuming energy at an alarming rate. When we light our rooms, heat our showers, or power our cell phones, typically fossil fuels like coal or gas would be burned to give us energy. Luckily, our local energy utility provider, SDG&E, is currently turning the tide and leading in renewable energy supply to the grid with 45% renewable energy! Traditionally, the use of fossil fuels, like natural gas and coal produces, air pollution through the energy process. This form of energy production also releases greenhouse gases, which include carbon dioxide and methane. While we are well on our way to 100% renewable energy in San Diego, there is yet a lot of work to be done throughout the country to utilize clean energy and reduce our greenhouse gas emissions significantly enough to mitigate the effects of climate change.
Helen Keller famously said, "Alone we can do so little; together we can do so much." We don't have to change the world alone, and it really can be as simple as flipping a switch. Turning off the light to reduce energy usage is simple and takes minimal effort. If you turn off the light in your office, another person also follows, and the impact spreads. We need to inspire collective responsibility by consciously thinking about the world we all share. One more person practicing energy efficiency is one step in the right direction. You might not stop all greenhouse gases from being emitted and you don't have to do everything yourself, but together we can spread awareness and introduce new perspectives. The result is a collective of individuals who care to make a difference and ultimately create a ripple effect toward a greener, cleaner, and healthier future.
Where  can  you  start?
There are many simple energy saving practices you can add to your lifestyle to reduce your energy usage in your workplace and at home. Try out our Energy Efficiency Bingo game to increase awareness and promote energy saving practices with your friends and colleagues! Hold an Energy Efficiency Day competition for an added fun factor. You can download it here. As proclaimed by a staff member at the San Diego Civic Youth Ballet, EE Bingo was "simple, fun, and engaging!"
Find energy saving programs on San Diego Gas & Electric's (SDG&E) website. If you live in California, there is a Time-of-Use initiative focusing on reducing our energy use from 4:00 pm to 9:00 pm, when there is less clean renewable energy available. Consider shifting some of your energy-intensive activities away from this time period to avoid fossil fuels and higher costs. For more energy saving tips, visit SDG&E's power saving tips page. We would like to send a big THANK YOU to SDG&E for all your generous support and swag bags. This challenge would not have been possible without your help! Together, we can all save money, cut carbon, and breathe easier.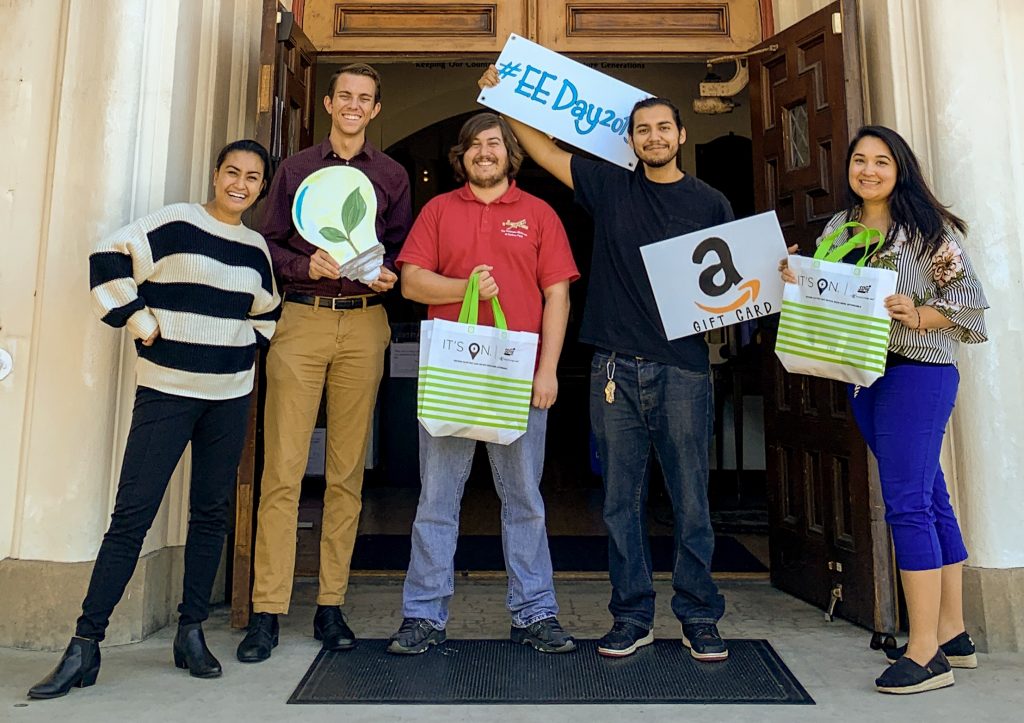 Featured in the photo above, Veterans Museum at Balboa Park, winners of EE Bingo! Every bit of effort counts towards a brighter, greener tomorrow! Thanks, fellas!