The Smith Leadership Symposium is an annual event that serves any staff, trustee, volunteer, philanthropist, artist, or other professionals connected with arts and culture. This signature event ranges in topics from cultural arts leadership to audience engagement to integrating innovative technology. Every year the symposium introduces new themes and trends in arts and culture, some cultivated from within Balboa Park, and others occurring nationally.
These symposiums give our attendees an opportunity to explore new ways of thinking about the business of arts, science, and cultural institutions while inspiring and advancing our cultural community's ability to serve the public and to create dynamic visitor experiences.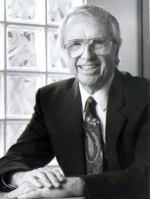 The Symposium is named in memory of Robert "Bob" Smith, a San Diego civic and business leader. Mr. Smith's service to Balboa Park began when he was a young newsboy, selling daily papers at the California-Pacific International Exposition in 1935. In later years he provided strategic planning consulting for many Park institutions including: the San Diego Natural History Museum, Zoological Society of San Diego and the Balboa Park Cultural Partnership.

2020 Smith Leadership Symposium
Leading From Where You Stand: An Exploration of Your Leadership Journey
February 26, 2020
Everyone is a leader, no matter what your job title or area of responsibility.  Join your arts, science, and culture colleagues for a day of exploration of your role as a leader, wherever you stand in your organization.  The 2020 Smith Leadership Symposium will provide all participants with a day of learning, growth, reflection, and support.  Click here to register to attend this year's Symposium
2017 Smith Leadership Symposium
Social Responsibility and Civic Engagement
September 6, 2017
The 2017 Smith Leadership Symposium explored the connection between social responsibility and civic engagement. Attendees were challenged to consider their organization's social responsibility to the arts, culture, and science community, as well as, the community at large, and solutions for their respected organizations to be more civically engaged. This Symposium focused on how individuals can be advocates for not only themselves, but for organizations as a whole through civil discourse and inclusive programming.