Learn Together Session Two: Who You Are and Why You Matter
April 28, 2022 @ 10:00 am

-

11:30 am

Free

What parts of you show up at work and how does culture impact you? In this session, you'll explore who you are and how you can help shape workplace culture. Learn how to recognize significant parts of your identity that you bring to work, distinguish how social dynamics impact how you see yourself at your organization, and identify your role in shaping the culture. Culture is shaped in many ways and you're part of that equation – you matter!
This session is appropriate for all levels: 
Entry-level, Junior, and Mid-level team members, this session will help you see the important ways that you shape the organization by bringing your identity, and the importance of being aware of the ways you've been shaped by social dynamics.
Managers, Directors, and Executives, this session will help you see and appreciate the ways that employees and volunteers shape the organization, as well as why it's important for you to own your identity and what you bring to the organization because of it.
Pre-work will be available after Thursday, April 21. 
What to expect: come prepared to participate by completing the pre-work, breakout rooms may be utilized for small group discussions, and a short Q&A session is schedule if time permits.
---
MEET OUR FACILITATOR, JESSICA DENISE DICKSON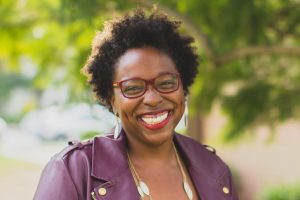 Jessica Denise Dickson (she/her/hers) is a life empowerment coach who believes that when Black women heal, the world heals. She believes that the path to personal and collective healing comes through examining the systemic issues that impact each of us, and unraveling oppressive systems from our personal internalized, and collective worldviews.
Jessica supports clients, through groups and one-on-one work, and works with organizations, for the reclamation of our full humanity – healing work that leads us to equity, justice, and freedom. When we do this work, we live more authentically with self-trust, self-safety, and fully-embodied freedom, and this echoes into our communities and changes the world.
Before doing consulting work, Jessica worked in the higher education field. She recruited and trained staff, was a crisis responder, developed college-level courses, and more.
Check out the other sessions here: https://bpcp.org/rise-learn-togethers/