Learn Together: The Bystander Challenge – How to be an Up-Stander – Cohort B: Session 1
November 9, 2022 @ 2:00 pm

-

4:00 pm

Free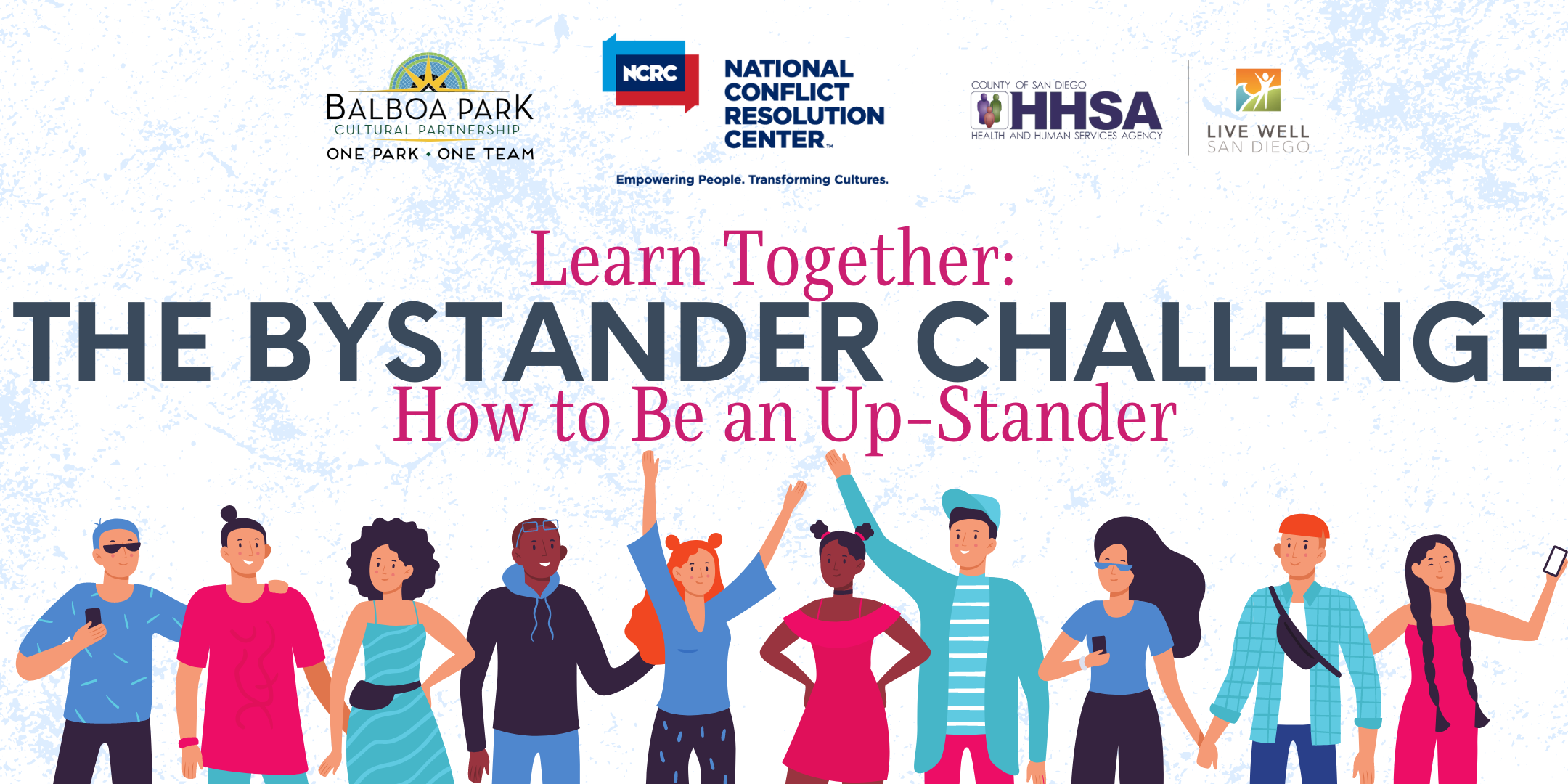 About this Training
While notices and directives abound in workplaces to raise awareness of what constitutes harassment or discrimination, few programs teach people how to communicate to their coworkers and other community members when they perceive red flags. The Parkwide IDEA Working Group invites Balboa Park team members to participate in an interactive workshop by the National Conflict Resolution Center to learn how to have challenging conversations in ways that demonstrate respect, inclusiveness, and dignity for everyone involved. This workshop on empowering bystander communication builds on the tools we know work to help employees gain confidence in conducting these conversations, whether in-person or online. Thoughtful interactive exercises and reflective conversations help create a safe space to learn. Weaving in values clarification and specific communication skills development, NCRC's bystander workshop gives participants more confidence to react to these situations effectively.
Group Objectives
Navigate power dynamics when communicating concerns with authority figures.
Handle disparaging Park guest comments effectively and tactfully.
Practice self-awareness about the burden of conflict and group awareness to know when and how to intervene.
Workshop Schedule
Space is limited. Please only register if you are able to attend both sessions for your cohort. Registering for a cohort will register you to attend 2 dates. See cohort session breakdowns below:
Cohort A – priority for frontline/front-of-house/ticketing staff
Session 1 – Wednesday, November 9 – 8am – 9:45am
Session 2 – Wednesday, November 16 – 8am-9:45am
Cohort B
Session 1 – Wednesday, November 9 – 2pm-4pm
Session 2 – Wednesday, November 16 – 2pm-4pm
REMINDER: Only register for 1 cohort. Registration closes on Friday, November 4 at 11:59pm.
---
About National Conflict Resolution Center
Built on the principle that every dispute has a solution, the National Conflict Resolution Center (NCRC) serves a variety of communities in both the public and private sectors — regionally, nationally and internationally. Our mission is to resolve issues with the highest possible degree of civility and equitability to all parties involved. NCRC is a San Diego-based non-profit organization that provides conflict resolution and communication skills training, mediation, and restorative justice services.
This training is funded by the County of San Diego HHSA as part of the Live Well Exchange program.