The San Diego Natural History Museum, also known as The Nat, has always been an eco champion, leading the charge to a greener future with its sustainability initiatives. They have addressed their environmental impact in numerous aspects of their organization, from their use of sustainably produced paint and carpets, to their exhibit display furniture and mounts created in-house. Through SDG&E's Local Capacity Procurement Program incentives and generous donors, The Nat installed two new chillers to improve their heating, ventilation, and air conditioning (HVAC) system which allows them to operate their building more efficiently and better care for their collections.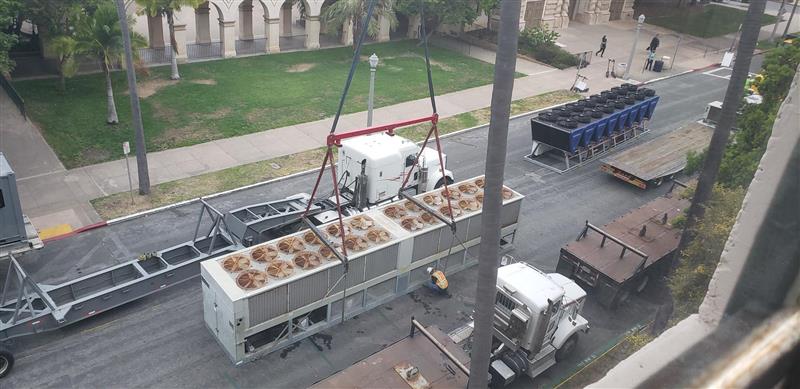 A  Big  Chill
The San Diego Natural History Museum focuses heavily on the conservation of the natural world and its inhabitants. Sustainability and conservation are at the core of the organization's mission. The Nat's master plan includes three main goals: to reduce their carbon footprint, enhance the visitor experience, and improve collections care. Looking to affect all three goals, the Museum replaced a portion of its HVAC system with a 17,980-pound chiller for building wide cooling and a smaller chiller for their collections space in June of this year. HVAC systems are energy intensive, lack of maintenance, and/or an older system will result in using far more energy. Even with proper maintenance, over time older models cannot match the performance of newer technology and are generally less energy efficient. Installing newer more efficient HVAC models helps reduce energy consumption, which reduces the use of fossil fuels. Jennifer Padilla, Senior Director of Operations at The Nat comments, "As an institution whose mission and work revolves around the natural world, we feel learning to operate sustainably is our duty. While our scientists work on projects that support conservation efforts in our region, we find it imperative for our entire institution to support these efforts through sustainable practices at work and at home. As someone who oversees the operations of our facility, I am involved with many of the systems that can be challenging from a sustainability perspective such as the need to keep a large building cool in a warmer climate. I feel it is my charge to take on these challenges and do what we can to work toward green solutions. This sense of responsibility is certainly related to my belief in our mission, but frankly, I feel it is just the right thing to do."
A  Partner  for  Improvement
SDG&E's incentive program, Local Capacity Procurement Program (LCPP), helped ease the cost of this upgrade project. With the cash incentives for HVAC system improvements, building owners and operators can replace HVAC equipment, add controls or commission the mechanical system, and implement other energy efficiency measures. The Nat's project was eligible to participate in the program, and they took the initiative to make the switch. The Museum was able to improve net operating income through increased energy efficiency, all while maintaining the tenant and visitor comfort and improving environmental controls for collections. The Nat's chiller replacements are a great example of modernization and adaptation of historic buildings and museum spaces to run more efficiently and be environmentally conscious.