On January 21st, the San Diego Zoo held a ribbon-cutting ceremony to celebrate the successful installation of a new onsite battery storage system. This 1 megawatt (MW)/4 megawatt-hour (MWh) Battery Energy Storage System (BESS) is located on Zoo property and will be essential in offsetting energy during the day when electricity is in highest demand. As mentioned by San Diego Zoo Global's CEO, Paul Baribault, "This new battery storage system is expected to significantly reduce our energy costs and put more resources towards supporting the animals in our care and our mission to save species. By storing energy gathered during the day, it allows us to use more sustainable sources – like solar and wind-powered systems – and in turn, reduces our need for fossil fuel support energy and speaks to our organization's goal of improving our green practices." The result of this battery installation will improve the resiliency of the grid, increase sustainability efforts, and reduce energy costs for the San Diego Zoo, setting the stage for a new and improved way they manage energy.
SUPPORTING  SUSTAINABLE  ENERGY  GOALS
Envisioned since 2017, this battery has been a long-awaited addition to the Zoo's sustainability efforts, and there were many in attendance to witness this significant event. Joining Paul Baribault in giving remarks was Mayor Kevin Faulconer, Councilmember Chris Ward, and Raphael Declercq, Executive Vice President, of EDF Renewables in North America.
EDF Renewables was selected to deploy this on-site, behind-the-meter (BTM) battery storage solution. Behind-the-meter refers to a system that provides power that can be used on-site without passing through a power company meter and directly powering a system or device; this is opposed to a front-of-meter system that receives electricity from a grid-tied source that passes through a meter box prior to its use. EDF Renewables is a leading independent power producer and service provider that offers on-site clean energy solutions for office buildings, corporations, industrial facilities, electric vehicle charging stations, and more. Raphael Declercq from EDF said at the ceremony, "We are, as a company, focused on delivering solutions for our customers to lead the transition to an energy future that is sustainable." And this is exactly what they accomplished, for the San Diego Zoo. Together, San Diego Zoo Global and EDF Renewables are setting the tone for innovation striving towards a greener future.
Chris Ward, Councilmember of District 3, added, "San Diego Zoo Global is a world leader in conservation and education. And now, San Diego Zoo Global continues to be a leader by working with EDF Renewables to improve sustainability and help San Diego meet our Climate Action Plan goals." Outlined in the City's Climate Action Plan are efforts like these to mitigate the use of fossil fuels. The goal of this battery storage project is to reduce demand on the grid during on-peak periods by discharging the stored energy in the battery. This process is otherwise known as peak shaving. Mayor Kevin Faulconer states, "This battery is going to help reduce energy costs by helping to mitigate spikes in power usage and lowering demand charges, meaning it will require less from the power grid." It is a sustainability measure that contributes to city-wide efforts to mitigate the use of fossil fuel by reducing the need for supplemental fossil fuel supplies during on-peak periods.
GETTING  ALL  CHARGED  UP
BESS is operated using a sophisticated algorithm equipped with 256 Lithium-ion batteries that strategically collect energy during off-peak periods. The Zoo would be utilizing arbitrage charging, which means purchasing electricity from the grid when it is cheaper, storing it, and using it when demand is at its highest. Along with this process, the EDF Energy Management System is fitted with climate control, fire protection, smoke detection, and communication integration that monitors temperature, voltage, along with other auxiliary components that support and solidify the system.
In addition to reducing the cost of electricity during times of high demand, BESS has the capability to store power from alternative energy generators such as solar and wind. Depending on environmental conditions, these clean, renewable energy sources might produce power at a time when it is not fully needed. However, a battery storage system will be able to collect, store, and discharge during peak hours.
  
BATTERY  TECHNOLOGY  FOR  EVERYONE
San Diego Gas & Electric (SDG&E) utilizes battery energy storage to contain renewable energy for customer use. SDG&E's EcoChoice program allows residential customers to reduce their carbon footprint by purchasing 50%-100% of renewable energy for their home or business. SDG&E is a leader in sustainability with 45% of their electricity generated from renewable sources.
Along with the environmental benefits, the local power grid also benefits from battery storage installation because it mitigates risks during high electricity production and consumption. BESS can also act as a temporary generator during power outages. Another benefit is the reduction of energy disruption risks from natural disasters like hurricanes, earthquakes, and wildfires. Overall, battery technology will modernize the power grid to create a more resilient, reliable, and efficient power service.
Before cutting the ribbon, Declercq said, "San Diego is the best place to innovate and create technology solutions; like this battery that allow[s] integration of more renewables into the grid, and strive towards the goal of 100% renewable. It is only the beginning."
We are excited to have the San Diego Zoo showcase emerging technology, and represent Balboa Park as a learning lab of sustainability. We can't wait to see how organizations like San Diego Zoo Global implement new energy storage technology in the future!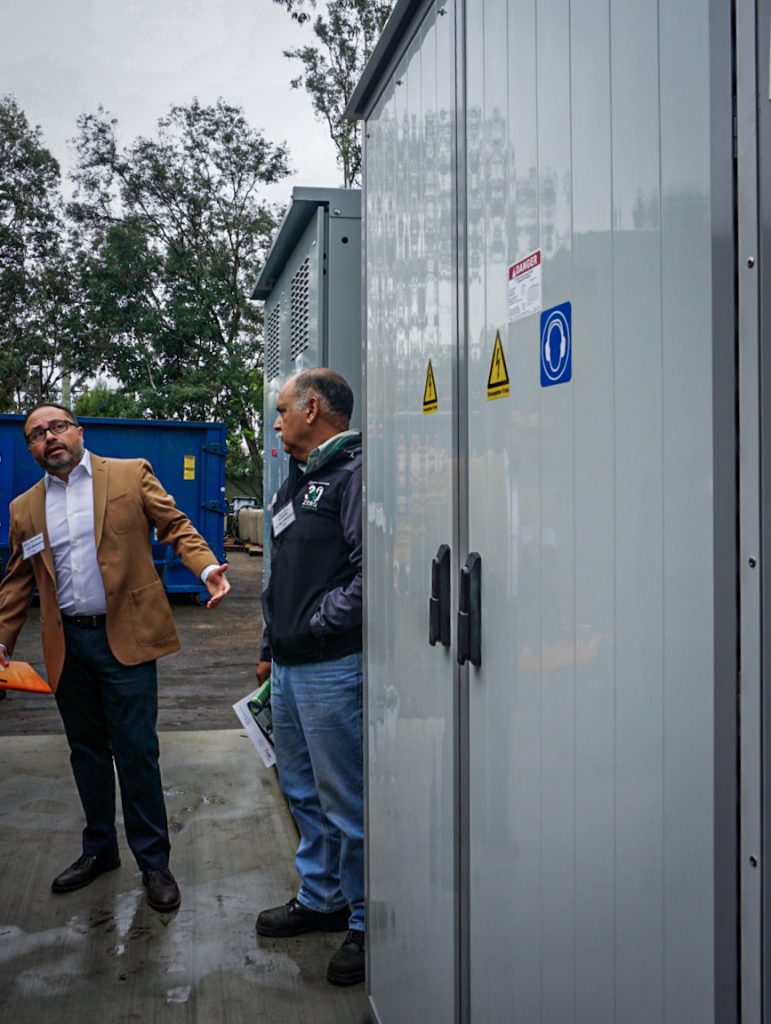 .