Caught Green-Handed is a new blog series meant to shine the spotlight on eco-champions throughout Balboa Park. We made it our mission to seek out individuals who practice sustainability in their own lives. These eco-friendly people inspire us and they will inspire you, too!
Mary Alice Kessler, also known as "The Bag Lady," is a volunteer for the Botany Department at the San Diego Natural History Museum. She began her service at The Nat in May of 2004 and has been committed ever since. She spends her time appreciating the wilderness and all the creatures and critters that reside in it. Some days, she enjoys quality time with family. But most days, she's helping save the environment by repurposing materials to be reused again and again!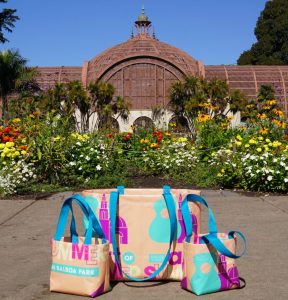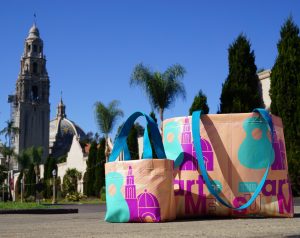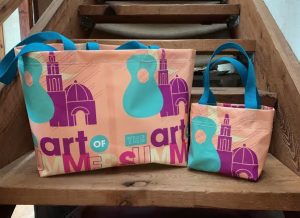 Mary, why do you practice sustainability?
Mary Alice: I grew up at a time when we were told "Waste not, Want not". We were taught to make do with what we had, which meant using up the things we had before anything new was bought.  We rarely threw anything away – we wore hand-me-downs and used the cloth flour sacks as dishtowels. So, I guess I would say it [sustainability] is a habit I learned early on.
DO  WHAT  YOU  LOVE  &  DO  IT  OFTEN
Mary Alice's sustainable work has been around for many years. Like anyone pursuing any creative medium, she began with her inspiration. Sewing is a family tradition that has been carried down from generation to generation. Her grandmother owned a Singer treadle sewing machine, with which Mary Alice's mother used to make her children clothes for school. Mary and her sisters also used the sewing machine while growing up. During her time in high school, she studied sewing in Home Economics. Since then, she fills her time practicing her work and polishing her craft.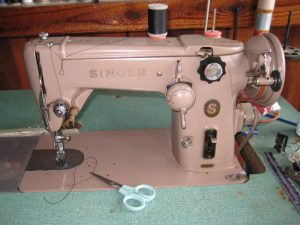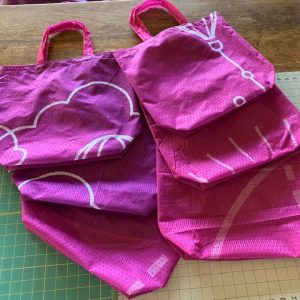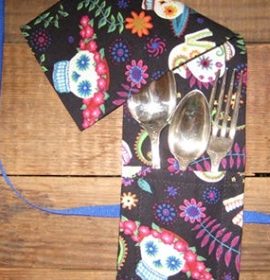 Can you tell me about your sustainable craftwork?
Mary Alice: One of the things I do is take items such as vinyl building banners or vinyl pole banners and give them a new life by cutting them up and sewing them back together making a very sturdy tote bag, so that the banners don't end up in the landfill. After I started making vinyl tote bags, I realized that the material used to make pet food bags containing dog, horse, goat and chicken food would also be strong enough to make a tote from. It [the bag material] was Woven Polypropylene; perfect for making fun and sturdy totes. 
Word of her reusable, recycled tote bags have spread throughout the nation. Organizations from New York, Texas, Indiana, Florida, Hawaii, Maryland, Wisconsin, Pennsylvania and more have reached out to her to transform their business' banners into durable and waterproof totes. After the vinyl banner is taken down and sent to Mary Alice, she washes each one by hand, bringing life back into the vibrant colors of the various design. Then, she removes the original stitches, cuts the patterns, and sews the bag together with her trusty Singer sewing machine. Her hard work and dedication have diverted hundreds of vinyl items from ending up in the landfill.
I  JUST  WANT  TO  DO  MY  PART
Mary Alice has a compassionate heart. Whether it is with crafting something someone would enjoy, volunteering at nonprofits, or supporting local charities, she is constantly spreading kindness throughout her daily life. Her altruistic nature, along with her passion for crafts, are combined when she repurposes vinyl banners into tote bags. In the past, she has gifted her recycled bags to organizations like the Leukemia Lymphoma Society, the California Native Plant Society, and even her grandchildren's elementary schools!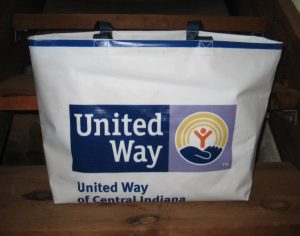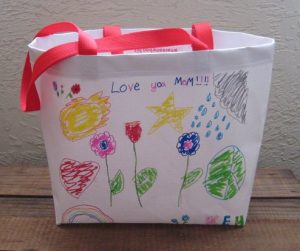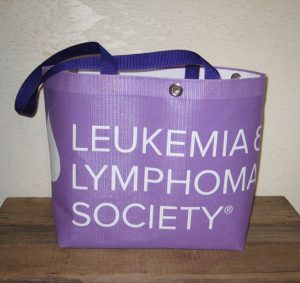 How can others become more sustainable?
Mary Alice: Use it up, or give it away for someone else to use.
As the saying goes, "One man's trash is another man's treasure!" Here are some ways our program and members in the Park participate in recycling programs. The recycling company, Terracycle, offers some free recycling programs that help divert hard-to-recycle waste from landfills, such as oral care products, cigarette butts, fabric care products, and many more. San Diego Youth Symphony and Conservatory uses Terracycle to recycle all types of instrument strings! Another resource Balboa Park Cultural Partnership member organizations utilize is our Excess Capacity Program. Organizations with excess materials or resources can easily distribute them to other Park organizations and help to divert waste. This includes new or used office furniture, tools, and other items that are no longer needed.
When it comes to repurposing, Mary Alice, The Bag Lady, takes reusing to another level by creating different bag models from scraps of a variety of materials. For example, donated cotton fabric is great for creating beautiful fabric bags, and Mary doesn't stop at bags! She has created Kindle Covers, snack bags, quilts, reusable cutlery holders, clothes, and much more. Check out her online store! With the holidays just around the corner, contact The Bag Lady to create meaningful quality gifts to repurpose for year-round giving! Pick up a bag today or try your hand at crafting. Help save our planet, one bag at a time!
Mary Alice once told me, "I just want to do my part." This is such a simple phrase but holds valuable meaning. We are all on a different path and we all see through different eyes. And we all have ways, big or small, to contribute to the larger effort of conservation. Let's also thank people who are doing their part to save the world! We can all appreciate and help spread awareness.
NOMINATE  AN  ECO-CHAMPION
If there is someone you know practicing sustainability in Balboa Park, let us know and they'll have a chance to be featured in the next Caught Green-Handed blog!