We are introducing Caught Green-Handed, a blog series meant to shine the spotlight on eco-champions throughout Balboa Park. We made it our mission to seek out individuals who practice sustainability in their own lives. These eco-friendly people inspire us and they will inspire you, too! This month, Bonnie Chance was Caught Green-Handed creating sustainable art!
Bonnie Chance, also known as Dr. Bon, is an artist at Spanish Village Art Center. Bonnie built her art career with humble beginnings. She grew up in a small town with the closest convenience store located miles away. She credits her creativity and resourcefulness to having to use what was available. She began to practice sustainability at a young age and it carried over to her art career and as a member of the Spanish Village Art Center. Throughout the years, Bonnie has created incredible works of art using a variety of recycled materials. Her perspective and creative approach towards the arts have turned "trash" into art!
Bonnie, why do you, personally, practice sustainability?
Bonnie Chance: Why not? Sustainability makes you creative and resourceful. Creativity is the only thing that solves problems. If you are creative, it translates to everything in our lives. You have to look at it differently or see something new in it. It challenges you because there are so many things that are thrown away and you got to be creative to use it for art. I'm trying to do the right thing.
SAVE  THE  SHIP!
Along with the belief that we must all do our part to take care of our environment, Bonnie strives to repurpose every single piece of material she has available to her. For this reason, her latest piece, Sustainabili-Tiki Shack, was created out of 100% recycled materials. From the lamp created from a Hawaiian shirt and tomato cage, to walls of plywood decorated with postcard "wallpaper". Most of the materials have been repurposed for the fourth year in a row! The Sustainabili-Tiki Shack represents an accessible medium, which can be used to express creativity and heighten sustainability messaging. Her passion for taking care of the planet is conveyed on the shack sign that reads, "We are all on the same ship, in orbit around the Sun. Save the ship!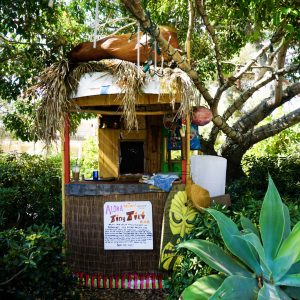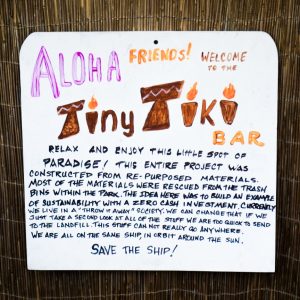 Can you tell me about your sustainable artwork?
Bonnie Chance: I like a challenge. I look at something and think, "What can we do with this?" I never stop seeing art in things. My mind just never stops. It's just connecting dots. Sometimes, I even paint with them. You can scoop up the paint with them. Paint doesn't have to go on with a brush. I have painted with just a postcard. It's not what you have. It's what you do with it. I've come here [San Diego] with nothing [but] look what I've done!
You don't even have to know much about [sustainability]. [If you ask yourself]: Is it reusable? Are there parts that are reusable? Is it dirty? Then you are thinking sustainably, and are thinking ahead. Everyone has a problem with wasting paper. Think about how [we] can reuse that paper. What if we made Christmas decorations – paper origami, paper angels, or stars! We can be 100% sustainable with art. If [I can show] other people in the Park how to do it, maybe they would want to do it too. There are tons of creative people in the Park [who] can change the way people look at waste.
CHANGING  YOUR  PERSPECTIVE
Bonnie expressed her love for learning, especially when it comes to art. She is constantly challenging herself to push her creative boundaries. Bonnie has painted on the smallest objects and is currently attempting to beat the record for the world's tiniest painting. However, she doesn't stop at tiny objects. Anything Bonnie comes across, she will attempt to paint a design on. Dr. Bon has painted on guitars, surfboards, ballet shoes, bottle caps, dress ties, seashells, and even people! You name it, she's most likely painted on it! Everything is a blank canvas in her eyes. One of her personal mantras is, "If you are going, go all the way. If not, you're wasting your time!" She grasps this idea whole-heartedly, especially when it comes to upcycling. Her way of forward-thinking is contagiously inspiring. She is constantly looking for a way to reuse materials and advocates for others to do the same.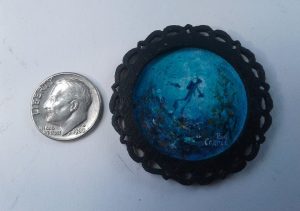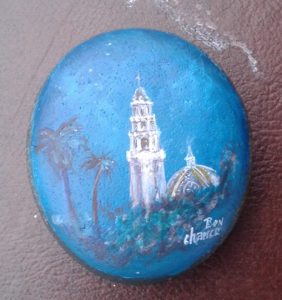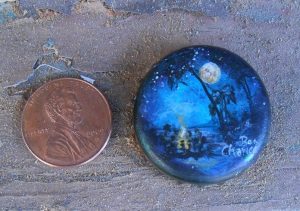 How can others become more sustainable?
Bonnie Chance: You can't tell people, you have to show them. If they engage with sustainability, they will remember it. There are so many different kinds of people. The only thing we get when we share an idea is more of them. When you exchange ideas you change the way you look at things. It changes the way I view things and hopefully, it also changes the way you view things. It changes your perspective. You cannot subtract when you collaborate. It's not possible. You only add.
MAKE  IT  YOUR  OWN
Bonnie believes that the best way to get others to practice sustainability is by getting them to participate in activities and to show enthusiasm. Dr. Bon mentioned the only way that you can get started is by trying. According to her, everyone is creative and it applies to people differently. For difficult materials to repurpose, Bonnie listed Art FORM San Diego that accepts donations for a variety of art materials to be recycled or repurposed. Art FORM instills art education and environmental stewardship through creative reuse. On their website, you can find Art FORM's list of accepted craft materials for donations. Another is our Excess Capacity Program for all of Balboa Park Cultural Partnership's member organizations. As part of the sharing economy model, member organizations with excess resources can easily distribute them to other Park organizations. Started in 2010, the Excess Capacity Program has diverted thousands of items from ending up in landfills!
Most importantly, Bonnie's final piece of advice toward becoming more sustainable, "Have some fun!" She believes making sustainability work for you and finding your own medium to repurpose is pivotal in creating eco-friendly, sustainable art. You can visit Bonnie at Spanish Village during your trips to Balboa Park. Her shop is located in front of Studio 4. There you can find her work and you can take home your very own sustainable art piece by Bonnie Chance, or, you can commission her to paint a special item you have!
NOMINATE  AN  ECO-CHAMPION
If there is someone you know practicing sustainability in Balboa Park, let us know and they'll have a chance to be featured in the next Caught Green-Handed blog!