Melissa Peterman is the Vice President of Development at the future Comic-Con Museum. While the museum undergoes its transformation into the home of the Comic-Con universe, Melissa plays an important role facilitating donor relations and supporting the advancement of the Museum. 
Can you share a bit about your role with the future Comic-Con Museum?
We're scheduled to open in 2021 and so my job is to ensure the museum has all of the resources it needs to stay on track for that opening. A lot of my time is spent building relationships within the community, and outside of San Diego because Comic-Con has such a broad audience that is also interested in the museum's success. It's really fun to bring all of that energy in to Balboa Park, and at the same time bring the museum to our stakeholders outside of the City to show how important a part of the museum is to Comic-Con. 
What is the most interesting part of your job? 
The most interesting part to me is learning so much about museums and meeting so many new people. I previously worked in the housing and homelessness sector, so it's been quite a change discovering a whole new world of arts and culture. 
San Diego Comic-Con is right around the corner! Are there any exciting events or programming at the museum that you're looking forward to?
So many! On July 17, which is Preview Night and opening night of Comic-Con weekend, we're hosting The Gathering, our first-ever fundraiser for the Comic-Con Museum at the museum. Since it's Batman's 80th anniversary this year, we're honoring him as our first inductee into the Comic-Con Museum's Character Hall of Fame. There are Halls of Fame for just about everything, except characters! So we're taking this opportunity to pay tribute and bring Gotham to the museum for the ultimate Batman experience. 
The museum will also be open during the week of Comic-Con and free of charge to the public. Guests can enjoy pop-up exhibits and Comic-Con programming without a Comic-Con badge, giving the broader San Diego community access to the magic of Comic-Con right here in Balboa Park! These opportunities to engage the space help us test and inform our vision of the museum, so it's all very exciting. 
How have you enjoyed working in Balboa Park? 
Part of what drew me to this job a year ago is being from San Diego and having never seen a new institution open in Balboa Park. The chance to be a part of this addition to such an important aspect of our city was too "once-in-a-lifetime" for me to miss. I also really like being surrounded by nature in the Park, and that there's always something going on like a new exhibit at another museum or Food Truck Fridays!
What do you like to do outside of work?
If you asked my husband, he'd say my hobby is working. I love what I do, but I also love spending time with my family. My husband and I have two dogs that we're obsessed with, and I have a slew of nephews, my newest just born at the end of June, and two nieces on the way! I babysit one of my nephews every other weekend and love spending time with him. If being an auntie is an acceptable hobby I would probably say it's mine. It's so fun.
Do you have a favorite Comic-Con show or movie series?
That's so tough, there are so many but my immediate answer is of course Game of Thrones. I'm so sad that it's over but I loved it and enjoyed rewatching the entire show every time a new season came out. My other fandom shows and movies would be Buffy the Vampire Slayer and Harry Potter. I'm not sure where Parks & Recreation falls in there, but Leslie Knope is my hero and I could watch that show all day or just let it play in the background. 
What is your favorite spot in Balboa Park? 
Panama 66 is my go-to spot. Whether I want to relax and eat in the sunshine or enjoy a drink, it's perfect!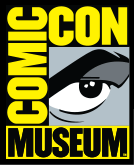 The Gathering will take place at the Comic-Con Museum on July 17.
To learn more, click here.