The April OPOT Get-Together featured complimentary coffee and pastries for a "happy morning," in the heart of Spanish Village Art Center. In celebration of Earth Month, the Balboa Park Sustainability Program joined One Park – One Team to share sustainable tips and play games to win Earth-friendly prizes!
Members of the Sustainability Program and the Balboa Park Green Team played recycling challenges and sustainability trivia with attendees while sharing information on how to get involved with sustainability in the Park. The Sustainability Program supports the Cultural Partnership's member organizations in advancing Balboa Park toward a socially, environmentally, and economically sustainable future. Read the Sustainability Program's 2018 Annual Report here.
More than 140 Park employees and volunteers enjoyed coffee and sustainable games and prizes. Check out a few photos from the event below.
Thank you to Daniel's Coffee and Spanish Village Art Center for supporting the April OPOT Get-Together!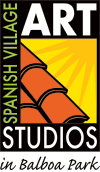 One Park – One Team Get-Togethers are for current Balboa Park employees and volunteers. These serve as an opportunity for Balboa Park employees and volunteers to network and get to know one another. Guests are not permitted. 
Have an idea for a One Park One Team Get-Together? Email oneparkoneteam@bpcp.org to get involved!