Nicole is the Museum Educator of Student Programs at The San Diego Museum of Art. She coordinates events and workshops for youth and educators. She has worked for The San Diego Museum of Art for 10 years, starting as a gallery attendant and contributing to the education department through various roles throughout the years before permanently moving into her roles as coordinator and educator.
How did you become the Museum Educator of Student Programs at The San Diego Museum of Art?
I had actually interviewed for a position as a gallery attendant, where I was very honest about my goals to work in education. I got the job as gallery attendant and throughout the years I worked with the education department during the Summer Youth Art Programs as a counselor and lead camp assistant. I was the Young Art assistant in 2013 and 2015 and and I was also a substitute Family Drop-In instructor, so I did a little bit of everything. Over two years ago, I became the Coordinator of Educator and Student Programs and just two weeks ago I was promoted to Museum Educator of Student Programs!
What is your favorite part of your job?
My favorite part of my job would have to be the Young Art program. Every two years, we host our Young Art exhibition, a juried exhibition that features works of art created by Kindergarten through 12th grade students throughout San Diego County. 2019 is a Young Art year, so I'm currently reaching out to educators and schools to encourage students to participate. We host a Young Art reception for the students that are selected and their families, principals and educators. We also host a special Family Drop-In Day, a Teen Art Cafe event, and Young Art student tours. Additionally, this year we'll have a matinee film for students and families. It is an incredible program for students to share their work and see it up on our walls. The Young Art 2019 theme is Breaking Traditions and I'm really excited to see the submissions we recieve for consideration.
What is the most interesting part of your job?
The most interesting part would have to be working with middle and high school students and seeing how much art and our programs affects their lives. Many returning students come to multiple programs at the museum, and seeing their growth and hearing stories about their acceptance to art school or the gallery exhibitions they have shown in is great.
Do you have a favorite exhibition?
My favorite exhibition was our Gauguin to Warhol: 20th Century Icons from the Albright-Knox Art Gallery. I love pop-art and Andy Warhol is one of my favorite artists.
What do you like most about working in Balboa Park?
I feel so blessed to be able to go to work and walk through Balboa Park every day and enjoy all of the institutions. I just love the community here and this time of year especially.
What do you like to do outside of work?

I'm a photographer and I love traveling and taking photographs, both digital and film. Lately I've been getting back into shooting with expired slide film, which is something I started doing in 2007 when I went to Paris. I photographed cemeteries in Paris with expired film to get an aged look without editing. My passion is photographing cemeteries, and one of my goals is to one day create my own coffee table book of cemeteries from around the world.
Favorite book, TV show, movie, song?

My favorite movies are Reality Bites and Beetlejuice, they both star Winona Ryder who I'm a huge fan of, and the French film, Amélie. My favorite books are exhibition catalogues, specifically the Saint Peter and the Vatican: The Legacy of the Popes.
As a kid, what did you want to be when you grew up?

In elementary school I wanted to be a veterinarian. When I was little I had a, "Save The Cats Club," where a friend and I trapped feral cats (with our parents' help) and raised money to get them spayed or neutered before releasing them back into the neighborhood again. In middle and high school I fell in love with photography and wanted to become a professional photographer, specifically for Rolling Stone Magazine.
What is your favorite spot in Balboa Park?

Alcazar Garden, it's so peaceful to walk through. Throughout the year when things get stressful it's great to spend your lunch there or enjoy a quiet break. It's the perfect spot to read or meditate. We often take the Summer Youth Art Program students there to sketch. Some of the students focus on the fountains or the tiles, trees or the flowers. There's a lot to enjoy in that small space.
---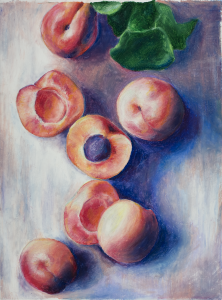 Don't forget to check out Young Art 2019: Breaking Traditions

For more information on Young Art 2019: Breaking Traditions please visit: https://www.sdmart.org/young-art/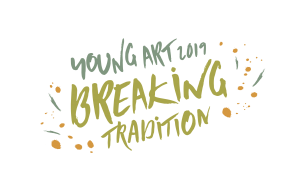 Young Art 2017– Camryn Melendez, Grade 11, Westview High School, Apricot Sunrise, Drawing